Tom-tom, Pourquoi?
by Frank A. Wallace
for percussion, prepared guitar, and two voices
; PARTS INCLUDED
Preview: a sample PDF of sample from As It Could Be – Tom-tom, Pourquoi?
Duration: 5 minutes; 7 pages
Difficulty level: Moderate technically; guitar requires simple "preparation" of hard foam stick put in strings at 19th fret
Written: February, 2014 for Kaleidos
Commissioned by: the Hartt School of Music Guitar Department at the University of Hartford, CT with assistance from the Augustine Foundation
Instrumentation: guitar and percussion with 2 voices [low female], or small female choir:
Drums: low bata, high/low bongo, deep "tumba" [djembe or conga] Rattle: cabasa, rain stick optional
Cymbals: small splash, small gong, chinese cymbal [high] Miscellaneous: rain stick or wood blocks
World premiere: April 12, 2014 at the Hartt School 50th Anniversary Gala, Hartford, CT by Kaleidos
All Gyre compositions are ASCAP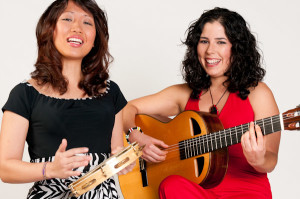 Tom-tom, Pouquoi?
for percussion, voices and guitar was written for
Kaleidos
: Yovianna Garcia, voice and guitar: Sayun Chang, voice and percussion
Multi-percussionist Sayun Chang's musical interests range from traditional and contemporary classical music to many diverse disciplines of world music. She has performed in international folk festivals throughout Turkey, Greece, Canada and Hungary. In 2011, Sayun presented the world premiere of Che-Yi Lee's Fantasy on the love of Shiao-Guei Lake for violin and marimba in MiaoLi, Taiwan. Currently, Sayun is a doctoral student at The Hartt School, where she studies orchestral percussion with Ben Toth.
Growing up in a family of musicians, Puerto Rican guitarist Yovianna García received her Bachelor in Music degree at the Conservatorio de Música de Puerto Rico and her Masters in Music degree at The Hartt School. She is praised for her expressive and charismatic performances at the Miami International Guitar Festival, Connecticut Guitar Society, New Music Hartford contemporary music series, Primer Festival de Guitarra Clásica in Ponce, Puerto Rico, and performances throughout the United States, Puerto Rico, Brazil, and the Dominican Republic. Yovianna released her first solo recording "Portrait" in June 2011.
Tom-tom, Pourquoi?
Eight works composed by Frank A. Wallace in winter 2014 comprise As It Could Be, a chamber suite commissioned by and dedicated to the Hartt School of Music Guitar Department and its founder/director Richard Provost on the occasion of their 50th anniversary. The project was conceived at dinner following a concert of the New England Guitar Quartet at the Hartt Festival in the summer of 2013. My interest in writing chamber music melded perfectly with Dick's desire to plan a celebration/concert for the Anniversary. Dick suggested using The Man with the Blue Guitar by Wallace Stevens (a resident of Hartford, CT) as a source of lyrics for a song to include. This incredible testimony to art and its role in changing society became inspiration for the music and titles. The possibilities for chamber music with guitar, guitar orchestra and ensembles are only beginning to be fully realized. Thank you Dick (and all your colleagues) who brought the guitar out of the dark ages and into a brilliant new community of creativity and progress through your courage, hard work and vision. Thanks to the Augustine Foundation for their support of this project. Let us imagine a future as it could be: "Things as they are / Are changed upon the blue guitar." [Stevens]
Copyright ©2014 Frank A. Wallace
Cover photography and design by Nancy Knowles
All rights reserved.