The Whirling
by Frank A. Wallace
for viola and guitar
; PARTS INCLUDED
Preview: a sample PDF of The Whirling
Duration: 7 minutes; 7 pages
Instrumentation: viola and guitar
Difficulty level: Moderate technically
Written: January, 2014 for Alturas Duo
Commissioned by: the Hartt School of Music Guitar Department at the University of Hartford, CT with assistance from the Augustine Foundation
World premiere: April 12, 2014 at the Hartt School, Hartford, CT
Recording: coming on Gyre, fall 2014
All Gyre compositions are ASCAP
Copyright ©2014 Frank A. Wallace
Cover photography and design by Nancy Knowles
All rights reserved.

The Whirling – debut at Hartt School 50th Anniversary – Alturas Duo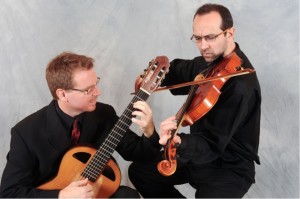 The Whirling
, viola and guitar, was written for
Alturas Duo
: Scott Hill, guitar; Carlos Boltes, viola
The only group of its kind, the Alturas Duo was formed with the idea of playing South American and classical music by bringing together the unusual combination of the viola, charango and guitar, and in doing so, creating passionate music that moves at ease between the Baroque, South American folk rhythms and new pieces written especially for the Duo. They have performed in Brazil, Canada, Chile, Bolivia, Ecuador and throughout the US and Puerto Rico including recitals at: Carnegie Hall, Merkin Hall, the Smithsonian Institute, the Music Mountain Chamber Music Series, La Guitarra California, and the 34th International Viola Congress. The Duo took First Prize at the 2006 New England International Chamber Music Competition, and won the 2009 CMA / ASCAP Award for Adventurous Programming. Finally, the Duo is a "Goodwill Ambassador" for the Chilean-American Foundation and has recently been named "Artist in Residence" for the Intake Organization whose goal is to incorporate native South American instruments in different styles of music.
The Whirling
Eight works composed by Frank A. Wallace in winter 2014 comprise As It Could Be, a chamber suite commissioned by and dedicated to the Hartt School of Music Guitar Department and its founder/director Richard Provost on the occasion of their 50th anniversary. The project was conceived at dinner following a concert of the New England Guitar Quartet at the Hartt Festival in the summer of 2013. My interest in writing chamber music melded perfectly with Dick's desire to plan a celebration/concert for the Anniversary. Dick suggested using The Man with the Blue Guitar by Wallace Stevens (a resident of Hartford, CT) as a source of lyrics for a song to include. This incredible testimony to art and its role in changing society became inspiration for the music and titles. The possibilities for chamber music with guitar, guitar orchestra and ensembles are only beginning to be fully realized. Thank you Dick (and all your colleagues) who brought the guitar out of the dark ages and into a brilliant new community of creativity and progress through your courage, hard work and vision. Thanks to the Augustine Foundation for their support of this project. Let us imagine a future as it could be: "Things as they are / Are changed upon the blue guitar." [Stevens]