Sketches for Two
by Frank A. Wallace
six duos for classical guitar
Preview: a sample PDF of Sketches for Two
Duration: 10 minutes; 10 pages
Instrumentation: classical guitar duo
Written: 2002
Difficulty level: Moderate; mostly single notes, some complex rhythms, but appropriate for intermediate students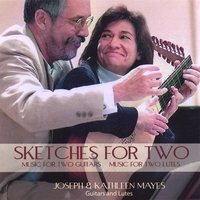 Recording: by Joe and Kathleen Mayes, 2006. Hear samples and purchase at CDBaby
The first video shows pictures of the beautiful church and sometimes humorous graveyard (be sure to catch the Harley gravestone!) where in the summer of 2012 Jan Bartlema and I recorded several Sketches for Two: I. La Cara, II. La Bella, IV. A la Béla.
Joseph Ricker posted this comment on Facebook, "The outrageously gifted guitarist and composer Frank Wallace is not only very generous with the beauty in his music, but also with his time and his insight into music. A couple years back Frank drove down from New Hampshire and spent a few hours with me and Jamie Balmer helping us work on a set of pieces that he wrote called "Sketches for Two" which Duo Orfeo subsequently took on tour. I love these pieces. This video from a concert at Endicott College captures our interpretation nicely. I hope we did it justice Frank!"
Sketches for 2 from Jamie Balmer on Vimeo.
Sketches for Two is a collection of miniatures written spontaneously over the past eight years. They are tone poems, short and direct. They are ethnic and simple, influenced by ouds and gypsy fiddles, medieval chants and renaissance fools, sacred motets and ancient guitarists. They come from my soul, not my head. They are a meditation, an album for the young. Sketches for Two is comprised of two loosely connected suites of three pieces each. The first three have a Latin feel as the titles suggest. The second set begins with a homage to Béla Bartók (1881-1945), one of the great composers of the 20th century [a pun on the previous La Bella, "the beautiful one"]. Bartók showed great interest in his native Hungarian folk music and used the tunes and its general feel in his For Children and in his monumental piano method Mikrokosmos. A la Béla is a humorous, offbeat creation intended to end with a chuckle. Caravan uses a gypsy modality and drone whereas Shreds is in a contemporary minimalist style using slowly shifting harmonies with only shreds of melody appearing in either part.
I. La Cara
II. La Bella
III. La Danza
IV. A la Béla
V. Caravan
VI. Shreds
Gyre Publications
Copyright ©2002 Frank A. Wallace
Cover photography and design by Nancy Knowles
All rights reserved.