Omaggio
OMAGGIO
A tribute to the legacy of Segovia
guitar by Hermann Hauser I, 1931
Frank Wallace plays Villa-Lobos, Turina, Mompou, Tárrega, de Falla and Wallace
GYRE 10212 | UPC- 802442102126 |
Omaggio
by de Falla performed on 1931 Hauser I guitar by Frank Wallace
HDTracks
and MP3s available at:
"Each one is played as if it were a brand new piece to discover, yet informed by the love, connection, and depth that one would experience with an old, special friend."
McCutcheon, Soundboard June 2017
Press release
:
Omaggio press release
Release date: September 16, 2016; digital January 7, 2017
Duration: 55:46
Engineering and mastering: Frank Wallace; recorded at Hillsborough Center Congregational Church in Hillsborough, NH on September 6, 2013 (track 11) and September and October 2014, by Frank Wallace with Schoepps and Neumann microphones into a Prism Orpheus firewire interface to MacBook Pro.
Artwork, photographs and design: Nancy Knowles
All Gyre compositions are ASCAP
Copyright ©2016 Frank A. Wallace
All rights reserved.
Tweet

01. Prelude #1, Heitor Villa-Lobos, 1887-1959 4:46
02. Prelude #2, Villa-Lobos 2:54
03. Prelude #3, Villa-Lobos, 1781-1829 3:14
04. Omaggio, Manuel de Falla, 1876-1946 3:07
05. I. Garrotín, Homenaje a Tárrega, opus 69, Joaquín Turina, 1882-1949 2:54
06. II. Soleares, Homenaje a Tárrega, opus 69, Turina 2:18
07. Preludio #5, Francisco Tárrega, 1852-1909 1:50
08. Adelita, Tárrega 1:29
09. Marieta, Tárrega 2:11
10. Capricho Árabe, Tárrega 5:44
11. Dreams on a Lullaby, Frank A. Wallace, b. 1952 6:57
12. I. Preludio, Suite Compostelana (1962), Federico Mompou, 1893-1987 3:21
13. II. Coral, Suite Compostelana, Mompou 2:45
14. III. Cuna, Suite Compostelana, Mompou 3:24
15. IV. Recitativo, Suite Compostelana, Mompou 2:58
16. V. Canción, Suite Compostelana, Mompou 2:49
17. VI. Muñeira, Suite Compostelana, Mompou 3:03
TOTAL TIME: 55:46
See the story and pictures of Segovia's 1931 Hauser, sister to the guitar on this recording with it's identical rosette, on the
Hauser webpage
Frank Wallace, guitarist with 1931 Hauser

LINER NOTES
Five of the first six tracks on Omaggio, my 25th recording, are homages. Villa-Lobos dedicated his Prelude #1 to the "Brazilian country dweller" and his Prelude #3 to Bach; Omaggio, Le Tombeau de Debussy is de Falla's nod to the master and Turina felt inspired to honor Tárrega with his Homenaje a Tárrega. Dreams on a Lullaby, variations on the folksong Noi de la Mare, is my homage to Catalan guitarist/composer Miguel Llobet and the great art and music of his native Catalunya. Federico Mompou, also Catalan, dedicated his Suite Compostelana to Andrés Segovia. He named it after the famed pilgrimage city Santiago de Compostela, home of Música en Compostela, the festival that featured Segovia's summer masterclass for decades. I went to that class in 1972. I met my future brother-in-law, but not Segovia, who was ill. A decade later I performed medieval music at the Música en Compostela festival, unaware that Segovia and the magnificent repertoire he engendered had left an indelible mark on my musical soul, which you will hear here.
This CD was initiated by my old friend, the late Edmund Brelsford. In 2010 Edmund invited me to do a concert of Segovia repertoire on his beloved 1931 Hermann Hauser I guitar (born the same year as he), in honor of the 100th birthday of its original owner, Blanche Honegger Moyse (1909-2011). Smitten by Andrés Segovia's concerts in Geneva in 1929, the young violinist Blanche Honegger asked Segovia if she could study with him, which she did, even living for a time in the Segovia household in Paris. Two years later, Segovia commissioned a concert guitar from Hermann Hauser. Of the two instruments Hauser delivered, Segovia kept one. The other, the guitar on this CD, he gave to Blanche. At the end of World War II, now a member of the illustrious Moyse Trio with her husband and father-in-law, she and the guitar left France on a boat to Argentina, finally settling in Vermont. Her Hauser guitar, which had not weathered well the long journey, eventually came into the hands of my friend Edmund Brelsford. In 1999 Hermann Hauser III, the master's grandson, undertook a major restoration, and there it was: a sunburst of sound, with colors of every hue, each tone ever-so-reluctantly melting into the next. Its true voice, muted for fifty years, sings again.
Playing this magical guitar has been a gift to me. In the process of relearning decades-ignored music for that 2010 concert and this recording, music I deeply love, I am more and more amazed at the myriad streams of life that flow into each ocean we call a human being. The decades I spent playing lute and vihuela, singing solo and choral music, teaching young professionals or young and old beginners—not to mention composing—all has made my understanding of the great masters of guitar so much deeper. It is a joy, an honor, an expression of gratitude to dedicate this recording
to all my mentors. —FW
PS – to hear more of this great guitar, listen to my 2014 CD Elemental, original compositions for the classical guitar.

Frank Wallace, Omaggio A Tribute to the Legend [legacy] of Segovia
Frank Wallace has enjoyed a career that has included touring since 1976, and these are pieces that likely have been in his repertoire for some time. Each one is played as if it were a brand new piece to discover, yet informed by the love, connection, and depth that one would experience with an old, special friend. This recording, played on a 1931 Hermann Hauser I instrument, which is a "twin brother" of one chosen be Segovia, is clearly an homage to the music but also to the contributions made to Wallace by his many teachers and fellow artists.
Three Preludes by Villa-Lobos are played beautifully, and even though these are decades-old staples of the repertoire, I found them very enjoyable to hear, with strong, assured passage work and bravura delivery. The "Garrotín" in Turina's Homage a Tárrega is performed with hesitant phrasing, which contrasts with the solid rhythm in the "Soleares." Among four pieces by Tárrega himself, his Prelude #5, not often heard in recordings, stands out as a quiet, delightful gem. Mompou's Suite Compostelana is dedicated to Andrés Segovia, who held summer masterclasses in Santiago de Compostela for many years. Wallace attended in 1972, which clearly inspires his interpretation. Wallace presents each movement as its own unique poem, from the depths of the "Recitativo" to the infectiously dance-like "Muñeira." He includes his own homage to Catalan composer Miguel Llobet with Dreams on a Lullaby, a set of variations on the carol "El Noi de la Mare." This piece has a wide range of settings starting with a contrapuntally beautiful treatment, dissolving into explosively contemporary and later almost free improvisatory sections, returning home briefly to the theme, and later moving into sections reminiscent of Julián Orbón.
Wallace is a member of the growing generation of sexagenarian players who continue to inspire by their artistry. The recording is well produced, with a solid yet sensitive guitar presence, and excellent graphic design by Wallace's wife Nancy Knowles. – Jim McCutcheon
Soundboard Vol. 43 NO. 2, p.57
---
Omaggio
Frank Wallace
Gyre Music
Finding new colors in Segovia's repertoire
This "tribute to the legacy of Segovia" (i.e., pieces associated with him) is played on a 1931 Hauser and recorded in a church, so there is plenty of natural reverb on the recording.  Wallace begins with Villa-Lobos' first three Preludes, well-known to most, but what is unexpected is his presentation of some details in a slightly different way, which I found quite refreshing.  The Manuel de Falla Omaggio that comes next moves a little faster than a lot of interpretations and is full of power and drama.  Turina's Garrotín and Soleares are wonderfully played.  It is such a shame that Turina's guitar oeuvre is so tiny, as these pieces are exciting and consistently entertaining.
Four pieces by Tárrega follow, all lovely miniatures, including Adelita and the famous Capricho Arabe, which receives a particularly lively and dynamic performance. The only slightly unconventional addition to the recital is a set of variation on El Noi de la Mare, so beloved in Llobet's magnificent version. Here, Wallace treats this lullaby to a constantly surprising set of emotions, many of them definitely not very lullaby-like.  This is Wallace's own homage to both Llobet and Segovia.
The recital finishes with one of the finest pieces Segovia had written for him, Federico Mompou's Suite Compostelana.  Wallace's interpretations are quite telling, as here, too, he manages to find fresh ways to play this suite.  This is altogether a wonderful album, beautifully played.  – Chris Dumigan, Classical Guitar Summer 2017
---
Nina Krebs (friend and fan), in an email to me, 12/28/16
Dear Frank,
OMAGGIO sat on my desk for a few days, and I enjoyed looking at the cover. Last night I opened it and played it straight through. I was transfixed – did not move.
Everything about this work of art is beautiful: the lush multi-layered painting on the cover, the sensuous photo of the Hauser inside, your love letter to your mentors, The Guitar, the music and humanity. The music is exquisite; your Dreams on a Lullaby perfect for inclusion.
Clearly you and Nancy spent hours on design and production in addition to playing and recording the music. The depth of your knowledge, commitment and experience shimmer through the sound. Sometimes perfectionism pays, and this is one of those times. In addition to my pure pleasure in listening to the music I find inspiration to push for my best in the work I'm doing now. Thank you.
Congratulations on a fine contribution to world art.

FOUR EXTRAORDINARY SPANISH GUITARS
"… a powerful player, possessed of an unfailing musicianship…the music is wonderfully executed [with] an almost symphonic range of colors and articulations…"
— Al Kunze, Soundboard Vol 45 No. 4
[read the full review here]
"…his playing shows what [the music] can sound like in the hands (and mind) of a real artist."
— Ken Keaton, American Record Guide
[read the full review here]
"Exceptional playing on historic Spanish guitars. [The Aguado Fandango is] beautifully played and superbly recorded [by the performer himself]…Three Tárrega pieces [are] wonderfully played with real depth of feeling." Chris Dumigan, Classical Guitar, summer 2016

ELEMENTAL
"Above all he is concerned with the sonorities of the guitar, and as a performer he employs a huge range of timbre and dynamics…all on an epic scale… He uses a 1931 Hauser guitar, a magnificent instrument ideal for his works that explore so many different sonorities." read complete review American Record Guide | July/August 2014 | KEATON
"From brittle cutting chords to silky melodic lines, Wallace has a very wide range of expressive and coloristic abilities on the guitar. The expressive qualities are equally matched by virtuosic playing in rapid flourishes and voice separation."
Read the full review: This is classical guitar | Bradford Werner
"An epic work. This album signifies not only a major musical statement by composer Frank Wallace, but a much needed sonic statement by Guitarist Frank Wallace. The colors, nuances and textures he brings to life are exactly what set the guitar apart as a conduit of artistic expression. This album should serve as a reminder to all that the inherent powers of the instrument reside in the quality of its voice. Elemental delightfully demonstrates what a Master guitarist can do with a seemingly unlimited tonal palette."
Aaron Green, luthier
OTHER PREVIOUS RECORDINGS
"…astonishing…an exquisite canvas…palpable excitement…consummate skill…virtuoso playing."
— Canfield, Fanfare Nov/Dec 2014
"…he can match the musicality of any player out there…orchestral ideas in his playing…natural phrasing and rhythm…playing is virtuosic but always in a musically convincing way."
— Bradford Werner, This is Classical Guitar
"…elegant virtuosity and Gyre's gorgeous sonics…"
— Jed Distler, classicstoday.com
"…a true master of his instrument…His dynamic range is impressive, and his gradations of tone, constantly singing line, and sensitive musicianship confirm his 'elegant virtuosity' (www.classicstoday.com)"
— Robert Schulslaper, Fanfare

BIO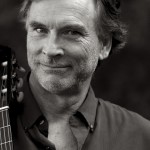 Frank Wallace, composer, guitarist, baritone; b. November 22, 1952 —
On stage, Frank Wallace is known for his "elegant virtuosity" (Classics Today) on the solo guitar, lute and vihuela and is also a master of self-accompanied song. Of his most recent CD Four Extraordinary Spanish Guitars, Al Kunze says in Soundboard,"…[he is] a powerful player, possessed of an unfailing musicianship…an almost symphonic range of colors and articulations…" Wallace tours internationally, performing music from the 16th – 21st century both as a soloist and with mezzo-soprano Nancy Knowles as Duo LiveOak. Wallace is a graduate of the San Francisco Conservatory of Music in guitar performance and is self-taught as a composer. American Record Guide calls Wallace's compositions "exciting, unpredictable, and fresh." Fanfare magazine has dubbed him a composer with "an authentic expressive voice" and a "high standard of musical interest" who performs with "flawless technical proficiency". Wallace's complete recordings and compositions are available at www.gyremusic.com, a site rich with information and samples of sheet music and audio.
"Wallace plays his own works with inspiration, determination, and a wealth of creativity…he can match the musicality of any player out there…" — This is classical guitar