More Gargoyles
by Frank A. Wallace
for guitar trio, op. 69  PARTS INCLUDED

Commissioned by: Mobius Trio
Written: August 15-18, 2012 in Würzburg, Germany
Duration: 7:30 minutes; 16 pages; parts included
Instrumentation: three classical guitars
Difficulty level: advanced
World premiere: March 23, 2013 at Old First Presbyterian in SF by Mobius Trio
Preview: a sample PDF of More Gargoyles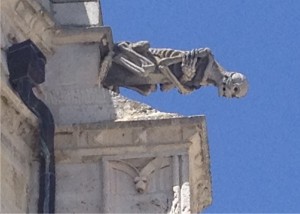 Gargoyles, for two mandolins and guitar, was written in Carrión de los Condes Spain in July 2012 for the Mare Duo of Dusseldorf, Germany. Returning to Spain to play music on my own turned out to be a very emotional experience. "Celebrating" the 40th anniversary of my attendance at the Segovia master class in Santiago de Compostela and the 30th of a performance of medieval music for Musica en Compostela was not a smooth ride. Sparing the details, I was nevertheless moved once again by the architecture and art of the Romanesque churches as well as the Roman ruins' spectacular mosaic floors at Villas Romanas Olmeda and Tejada. But the Gothic gargoyles on the cathedral of Palencia stole the show for me and seemed to characterize my mixed emotions of joy and sorrow.
Not having enough of these little fellows, I decided to write More Gargoyles for the Mobius Trio of San Francisco. A gargoyle seems to represent the two sides of humanity – they protect the sacred space within the walls they adorn, frighten us away. They are ugly by design, but beautiful in their intensity and in the sculptor's execution. In fact, it is often the grotesque that fascinate and inspire. But it is a sacred space we must enter by facing the gargoyles. My grandfather wrote, "Grin at the thing that bothers you and it will laugh with you." Do we not all have "gargoyles" in our lives, persons that challenge with their offensive and ugly character? Or are they right there inside, occasionally jutting to the surface when they scare our selves, our partners and loved ones. Life is not a smooth ride. Yet in conquering our gargoyles, inner or outer, we grow.
All notes are derived from the the names of both groups (for their respective pieces) and, you guessed it, "gargoyles." Both a chromatic and a modal version are created and then used and, perhaps, abused throughout the compositions.
Gyre Publications
Copyright ©2012 Frank A. Wallace
Cover photography and design by Nancy Knowles
All rights reserved.
Marek Pasieczny has made a comment on Mobius debuts More Gargoyles by Frank Wallace — Bravo Frank! also great performance!
Peter Blanchette
Excellent! I love their obvious commitment to the piece, which it fully deserves and delivers on. That's absolutely essential to new music, isn't it? They should record this one.
Kerry Alt
Very nice, both the composition and the performance. Great structure and textures with moving melody. Typical Frank Wallace…
To see all comments on this YouTube video click here.