Men, Women and Molecules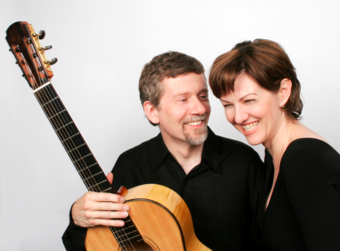 John Olson and Gioia de Cari, a voice and guitar duo from New York, [www.olsondecariduo.com/] conceived a project to commission songs written on "science" texts. Curious, I talked with them about what they were looking for. We started a dialogue and a search for texts that had any connection to the world of science began.
John and Gioia met in Berkeley California before coming to MIT as graduate students in the mid 80's. After MIT, John continued his life as a guitarist while pursuing a "day job" as a scientist in cancer research. Gioia abandoned her math career, but has recently "cashed" in on her experiences by writing and starring in a tremendously successful one-woman show called Truth Values: one girl's romp through MIT's male math maze. [www.unexpectedtheatre.org/truth_values]. She has been an actress and singer since childhood.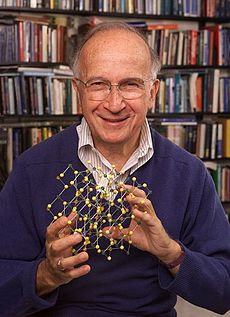 After several months exploring various paths, John called saying that they had met with a friend of theirs from Cornell. Roald Hoffmann is a Nobel prize-winning chemist, poet and survivor of the Holocaust. John sent a selection of his poems and I was given a website [www.roaldhoffmann.com] to explore. I loved the work and John and Gioia's choices, but as I read the two books that Roald sent, with frequent references to his 15 months hiding in an attic in the Ukraine form 1942-43, I felt a need to find one poem that revealed this tormented and mysterious part of his childhood. I chose "Somewhere," which has three stanzas, each beginning: "In me are hidden constellations;" "In me is the word that slaps worlds into being;" and "In me is a buried river that washes the mother lode."
After writing three songs, Roald sent me his new play, "Something that belongs to you." The play juxtaposes scenes from 1943 and 1992, when the daughter of his family's protectors attempts to return his mother's wedding ring. The occasion forces his mother and himself to confront and share with their family the terrible truths and still-intense feelings of betrayal, hate and loss as well as the irony of the ring. Reading the play (Roald says that the play, being a play and not a biography, has changed some of the relationships and events of the period, for dramatic reasons, but remains true to the essentials of what happened to him) confirmed my musical and poetic choices: Roald came from a loving family that had been ripped apart by the tide of hate in the 1940's, but he was young, the images became muted but haunted him, and his successes in science, academia and in love, here in America, re-confirmed his solid commitment to life.
The six-song-cycle begins with musical references to Roald's Eastern European routes, minor scales with augmented seconds and compound meters. It progresses into lighter jazz harmonies, symbolic of his new homeland, in "Where shall I look for her?" and uses the image and music of "Amazing Grace" as sung by Judy Collins. The major seventh interval plays an important role throughout the cycle, both as a clashing dissonance, and as part of sentimental jazz chords. "Next slide, please" is a light-hearted jab at the academic world of science, but it proved the most daunting to set. The dissonances and awkward melodies are intended as a technical or scientifically calculated counterpoint to, rather than a direct expression of, the inherent humor in the poem.
All poetry by Roald Hoffmann:
I. Somewhere
II. The scientific method
III. Men and molecules
IV. Where shall I look for her?
V. Next slide, please
VI. Tsunami
Click on Men and Molecules – Notes and poems to download the entire set of poetry and extensive notes by composer and author on the nature of the work. Below is the "theme song."
MEN AND MOLECULES 
Cantilevered methyl groups,
battered in endless anharmonic motion.
A molecule swims,
dispersing its functionality,
scattering its reactive centers.
Not every collision,
not every punctilious trajectory
by which billiard-ball complexes
arrive at their calculable meeting places
leads to reaction.
Most encounters end in
a harmless sideways swipe.
An exchange of momentum,
a mere deflection.
And so it is for us.
The hard knock must be just right.
The eyes need lock, and
glimmers of intent penetrate.
The setting counts.
A soft brush of mohair
or touch of hand.
A perfumed breeze.
Men (and women) are not
as different from molecules
as they think.