Fraktured
by Frank A. Wallace
for piano and guitar
Dedicated to: Heather MacLaughlin and Alan Johnston
Written: Dec., 2011
Duration: 8 minutes; 11 pages
Difficulty level: Advanced, but not virtuosic
Instrumentation: piano and guitar
World premiere: April 15, 2014 at the MacPhail Center for Music in Minneappolis by Heather MacLaughlin and Alan Johnston
Preview: a sample PDF of Fraktured

Fraktured
is dedicated to all of us who have suffered a fracture from our normal lives: physical or mental illness, a sudden loss, a loved one who disappears for a short time or forever, the loss of a job or a way of life, even the natural passing of parents or a beloved pet. We all pass through moments of torment, of not-knowing. We experience pain at times, and a monotonous dullness at other times.
Fraktured
is a single movement work that passes through all these emotions.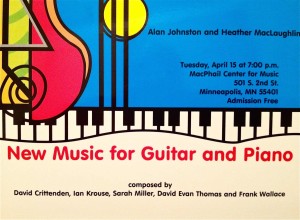 Gyre Publications
Copyright ©2011 Frank A. Wallace
Cover photography and design by Nancy Knowles
All rights reserved.