Four Extraordinary Spanish Guitars CD
Four Extraordinary Spanish Guitars CD
Frank Wallace plays Aguado, Giuliani, Mertz, Tárrega, de Falla and Wallace
on four great Spanish guitars: Manuel Gutierrez, Sevilla, 1854; Manuel de Soto y Solares, Sevilla, c. 1875; Manuel Ramírez, Madrid, c. 1910; Ignacio Fleta, Barcelona, 1964
GYRE 10182 | UPC 802442101822
"Exceptional playing on historic Spanish guitars. [The Aguado Fandango is] beautifully played and superbly recorded [by the performer himself]…Three Tárrega pieces [are] wonderfully played with real depth of feeling." Chris Dumigan, Classical Guitar, summer 2016
Manuel Gutierrez, 1854, Sevilla
1 Fandango Variado, Op.16, Dionisio Aguado, 1784-1849  7:49

Release date:
November 6, 2015
Duration: 55:35
Guitars: Manuel Gutierrez, 1854 [1,6-8]; Manuel de Soto y Solares, c. 1860 [2-5]; Manuel Ramirez, c. 1910 [9-12]; Ignacio Fleta, 1964 [13-14]
Engineering and mastering: Frank Wallace; Tracks 1-8 and 13-14 recorded at Hillsborough Center Congregational Church in Hillsborough, NH at various times from 1998-2003, by Frank Wallace with Schoepps microphones, Sontec preamp and Troisi converter to Panasonic SV-3700 DAT; tracks 9-12 recorded at Hillsborough Center Congregational Church in September 2013 by Frank Wallace with Schoepps and Neumann microphones into a Prism Orpheus firewire interface to MacBook Pro.
Artwork, photographs and design: Nancy Knowles, cover photo of Manuel Ramírez rosette
All Frank Wallace compositions are ASCAP; All rights reserved; copyright ©2015 Gyre Music
Manuel Gutierrez, 1854, Sevilla
1 Fandango Variado, Op.16, Dionisio Aguado, 1784-1849  7:49
Manuel de Soto y Solares, c. 1860, Sevilla
2 Minuet in D, Aguado  2:34
3 Larghetto, Mauro Giuliani, 1781-1829  1:19
4 Erster verlust, R. Schumann, 1810-1856 [arr. Wallace]  2:01
5 Minuet in C, Anton Diabelli, 1781-1858  2:11
6 An die entfernte, Johann Kaspar Mertz, 1806-1856 3:40
Manuel Gutierrez, 1854, Sevilla
7 Shaker's Dance, W. O. Bateman  3:21
8 Variations Mignonne, Mertz  6:56
Manuel Ramírez, c. 1910, Madrid
9 Adelita, Francisco Tárrega, 1852-1909  1:19
10 Marieta, Tárrega  2:00
11 Capricho Árabe, Tárrega  5:28
12 Omaggio, Manuel de Falla, 1876-1946 3:14
Ignacio Fleta, 1964, Barcelona
13 Débil del Alba, Frank A. Wallace, b. 1952  6:37
14 Suite in B minor, Wallace  7:04
TOTAL TIME: 55:34

BIOGRAPHY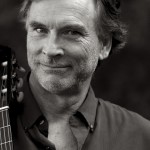 Frank Wallace is an artist whose wizardry on the guitar rivals the range and depth of his musical ideas in composition. Fanfare dubs him a composer with "an authentic expressive voice" and a "high standard of musical interest" who plays with "flawless technical proficiency". The American Record Guide calls Wallace's music "exciting, unpredictable and fresh". A prizewinner in the 2013 José Fernández Rojas International Composition Competition in Logroño, Spain, he has also garnered two New Hampshire Artist Fellowship awards for composition. Tirelessly working to expand the guitar repertoire with new works, Wallace founded and directed Festival 21 in Boston, a celebration of 21st century guitar works. In New York he founded and co-directed the Second Sundays Guitar Series run by the New York City Classical Guitar Society and the Roger Smith Hotel. In performance, Wallace is known for his "elegant virtuosity" on the guitar (Classics Today) as well as for his mastery of self-accompanied song. He has toured widely throughout North and South America and Europe since 1976, both as a soloist and as Duo LiveOak with mezzo-soprano Nancy Knowles.

LINER NOTES
It is a remarkable experience to hear a powerful, refined performer playing gorgeous historical instruments he knows intimately. On this album Frank Wallace shares his talents on four rare guitars from his own collection. Known internationally since 1976 as an elegant performer on guitar and lute, Wallace enjoys equal acclaim as a prolific composer of guitar solos, songs and chamber music. Fanfare says he is "…a true master…His dynamic range is impressive, and his gradations of tone, constantly singing line, and sensitive musicianship confirm his 'elegant virtuosity' (classicstoday.com)". "Wallace's music is exciting, unpredictable, and fresh…" American Record Guide
Frank explains his passion for old instruments: "Too often vintage guitars hide away in a collector's closet or the basement of a museum. Guitarists debate restoring/playing versus leaving them for historians to analyze. Modern string players, in contrast, are out in the world every day playing concerts with 100-400 year-old instruments. It is my belief that these older guitars are vibrant musical powerhouses. Their tones are infinitely more complex and haunting than those of newer guitars. In their discomfort with the smaller size and lighter construction of 19th and early 20th century guitars, modern guitarists tend to underplay, to be careful, to assume that old means weak. When I bought these guitars in the 1990s after a decade of performing on Renaissance instruments without nails, their sound felt robust and luxurious. Now having played them for a quarter century, they feel even more poetic and expressive: important for their vast palette of sound."
About the Instruments
In the mid-late 19th century, the vibrant Sevilla school of guitar building centered on one street, the Calle de la Cerrajería, where at #32 renowned builder Antonio Torres Jurado (1817-1892) did his most creative work from 1856-1869. Arriving in 1845, he lived in Sevilla for almost a quarter century. Before opening his own shop in 1854, Torres worked up to five years in the shop of Manuel Gutiérrez Martínez (1773-1857) at #36 Calle de la Cerrajería. Since Torres and Gutiérrez were close friends, one assumes Gutiérrez shared his knowledge and skills with the younger Torres. The oldest guitar on this album, an 1854 Gutiérrez built the year Torres made his first known guitar, is remarkably similar to an 1857 Torres guitar (FE 07) in the Yale University Musical Instruments Collection.
I had the opportunity to compare the two instruments some years ago. The resemblance is stunning. They are alike in size, shape and lightness of construction. Both have three-piece backs, five radial struts, a v-shaped shaft splice, and an almost identical headstock, in a shape reminiscent of bull's horns. The two luthiers clearly used similar techniques to refine the tops. (The Gutiérrez varies widely from 1.4-2.2 mm, corroborating Torres' famous statement that his secret is in the feel of the tips of his thumb and forefinger). With different woods for the back and sides, their sound is remarkably similar: rich, dark, full and complex. Since Torres built this guitar in the older, smaller style of Gutiérrez the year the elder luthier died, one wonders if he built it in honor of his friend.
Manuel de Soto y Solares (1839-1906) took over Gutiérrez' former shop at #36 (renumbered as #4) in 1868 then moved to #7 in 1875. From a distinguished family of Sevilla guitar builders (his father, both grandfathers, his brother, his children and grandchildren), he is credited with developing the tablao guitar for the burgeoning flamenco market, with its shallow depth, cypress back and sides, and domed top and back. My Soto y Solares is a superb example, showing the influence of Torres, whose instruments were fast becoming famous. It was exhibited at the 2000–2001 Boston Museum of Fine Arts' Dangerous Curves: Art of the Guitar Exhibition.
Manuel Ramírez (1864-1916) changed guitar history when the young Andrés Segovia walked into his Madrid shop asking to rent a guitar. The 1912 instrument that he gifted him became Segovia's principal instrument until 1937, when he began concertizing on a 1937 Hauser I. Both instruments are now at the Metropolitan Museum in New York. The influence of Manuel Ramírez' exquisite Torres-inspired instruments still resonates today, with good reason. Santos Hernández*, Domingo Esteso, and Enrique García among other great builders all worked in his shop.
The instruments of Ignacio Fleta (1897-1977) were made famous by many twentieth century virtuosos, including Segovia and John Williams. Like Madrid's Manuel Ramírez, Fleta in Barcelona had the opportunity to repair many Torres guitars. By the late 1950s Fleta was pioneering his own style of guitarbuilding, veering away from his earlier lighter Torres construction to satisfy his clientele, who were performing in large halls. His early training and building was in violins, cellos, and bass viols. No wonder his guitars have such a soul-stirring sustain. In an interview shortly before his death, he spoke of the pivotal influence of Torres on his work.
— Frank Wallace
*Santos Hernández built the Segovia 1912 Ramírez
FOUR EXTRAORDINARY SPANISH GUITARS
"… a powerful player, possessed of an unfailing musicianship…the music is wonderfully executed [with] an almost symphonic range of colors and articulations…"
— Al Kunze, Soundboard Vol 45 No. 4
[read the full review here]
"…his playing shows what [the music] can sound like in the hands (and mind) of a real artist."
— Ken Keaton, American Record Guide
[read the full review here]
"Exceptional playing on historic Spanish guitars. [The Aguado Fandango is] beautifully played and superbly recorded [by the performer himself]…Three Tárrega pieces [are] wonderfully played with real depth of feeling." Chris Dumigan, Classical Guitar, summer 2016
PREVIOUS RECORDINGS
"…astonishing…an exquisite canvas…palpable excitement…consummate skill…virtuoso playing."
— Canfield, Fanfare Nov/Dec 2014
"…he can match the musicality of any player out there…orchestral ideas in his playing…natural phrasing and rhythm…playing is virtuosic but always in a musically convincing way."
— Bradford Werner, This is Classical Guitar
"…elegant virtuosity and Gyre's gorgeous sonics…"
— Jed Distler, classicstoday.com
"…a true master of his instrument…His dynamic range is impressive, and his gradations of tone, constantly singing line, and sensitive musicianship confirm his 'elegant virtuosity' (www.classicstoday.com)"
— Robert Schulslaper, Fanfare