Cry Among the Clouds
by Frank A. Wallace
for solo guitar
Alternate version: also first movement of Suite Hartt
Preview: a sample PDF of Cry Among the Clouds
Duration: 5 minutes; 5 pages
Difficulty level: Fast repeated notes and tremolo
Instrumentation: solo guitar
Written: February, 2014
Commissioned by: the Hartt School of Music Guitar Department at the University of Hartford, CT with assistance from the Augustine Foundation
World premiere: April 12, 2014 at the Hartt School, Hartford, CT, by Christopher Ladd
All Gyre compositions are ASCAP
Copyright ©2014 Frank A. Wallace
Cover photography and design by Nancy Knowles
All rights reserved.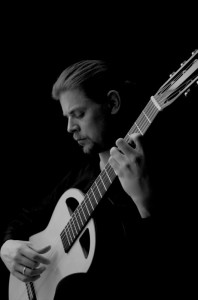 Cry Among the Clouds
, guitar solo written for
Christopher Ladd
Award winning guitarist Christopher Ladd is rapidly becoming known throughout the country as one of the most promising young classical musicians.  Praised as "… an exercise in extremes." by Soundboard Magazine, he is highly sought after as a soloist and chamber musician.  Performances of note as a soloist or as part of an ensemble include the DiMenna Center in New York City, the Kennedy Center in Washington D.C., the Viennese Opera Ball hosted by the Austrian Embassy, the historic Byrdcliffe Theater in Woodstock, NY and for former vice-president Al Gore at his residence in Washington, D.C. Most recently he has had the opportunity to work with Grammy and Academy Award winning composer John Corigliano, in a performance of his work "Troubadours" for guitar and chamber orchestra conducted by Edward Cumming. Mr. Ladd currently serves on the faculty of The Hartt School in West Hartford, Connecticut, Central Connecticut State University and the New England Music Camp in Sidney, Maine.

Cry Among the Clouds
Eight works composed by Frank A. Wallace in winter 2014 comprise As It Could Be, a chamber suite commissioned by and dedicated to the Hartt School of Music Guitar Department and its founder/director Richard Provost on the occasion of their 50th anniversary. The project was conceived at dinner following a concert of the New England Guitar Quartet at the Hartt Festival in the summer of 2013. My interest in writing chamber music melded perfectly with Dick's desire to plan a celebration/concert for the Anniversary. Dick suggested using The Man with the Blue Guitar by Wallace Stevens (a resident of Hartford, CT) as a source of lyrics for a song to include. This incredible testimony to art and its role in changing society became inspiration for the music and titles. The possibilities for chamber music with guitar, guitar orchestra and ensembles are only beginning to be fully realized. Thank you Dick (and all your colleagues) who brought the guitar out of the dark ages and into a brilliant new community of creativity and progress through your courage, hard work and vision. Thanks to the Augustine Foundation for their support of this project. Let us imagine a future as it could be: "Things as they are / Are changed upon the blue guitar." [Stevens]