Concert Offerings
"It is easy to feel an intimate connection to the ethereal beauty of Frank Wallace's compositions not only because of their individual splendor, but also because of the lush tone and sensitive perfection with which Wallace executes his music…"
— Stephen Griesgraber, Guitar Review
Concert offerings
Frank Wallace is equally respected for his talents as performer and composer. He presents standard repertoire as well as his own compositions with equal skill on guitar, voice, lute and vihuela de mano. No other guitarist of his generation is so comfortable in so many genres. The result is colorful and profound programming. Click on concert titles to view extensive information and media on the offerings:
Wander Above the Wood – a summer pleaser with solos of Villa-Lobos, Tárrega and Mertz and songs of Wallace, Foster, Rodrigo and Bernstein. Available summer 2017 and 2018
Tapestry – medieval music arranged for guitar, vihuela music of the Siglo de Oro, and Wallace's own compositions influenced or based on early chants, tunes and harmonies. Available Fall 2017
Birthday Concert – music of Britten, Rodrigo, Sagreras, Tárrega, de Falla and Wallace, all born on or near Wallace's birthday. Available all of 2018 – 2019
Of Love & Soul – entirely composed and performed by Frank Wallace, guitar and baritone, music and poetry for and by fathers and sons, a touching tribute to the male side of his family. Available by request
Three Spanish Guitars – music by Sor, Aguado, Tárrega, de Falla, Turina, Mompou and Wallace performed on three historic guitars. Available by request
Orpheus' Lyre – 16th century music from Spain and Italy for vihuela de mano and voice. Available by request
"His sound is simply wonderful… the tone of the guitar is luxurious…"
— Stephen Waechter, Soundboard
Bookings
Residencies available. Sign up for the mailing list, or contact composer/guitarist Frank Wallace directly at wallacecomposer[at]gmail.com to discuss concerts, commissions, or classes.
Program Offerings  Press Kit  Photo Albums  Biographies  Contact
"… he employs a huge range of timbre and dynamics… all on an epic scale… He uses a 1931 Hauser guitar, a magnificent instrument…"
— American Record Guide, Keaton
Workshop / Masterclass / Conducting
Wallace's humor, his passion for getting inside the music, and his much-praised mastery of technique and beautiful, powerful tone combine to make him a natural teacher. For coaching or conducting his own works, of course there is none better…
The Singing Guitar
how to play beautiful vocal lines on the guitar
Is your guitar a mini-orchestra as Andre Segovia described it? Or a small chamber choir, solo singer, violin virtuoso or blown woodwind? How do you approach the playing of melodic lines? This workshop will discuss the techniques involved in making your guitar sing. What is vibrato? What is legato? What is portamento? How do vowels effect your tone quality? What is the best fingering to achieve your goal? How do timbre and attack effect your vocal line? Read more: The Singing Guitar Workshop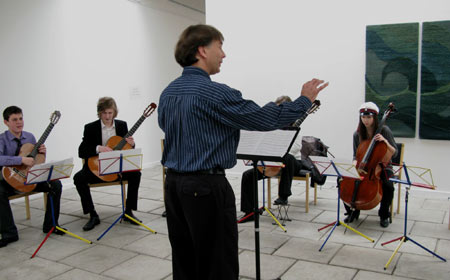 Mailing List
Subscribe to the Gyre mailing list for information on concerts, events, and new releases. Customize your preferences to get emails about the things YOU care about.
Copyright ©2017 Frank A. Wallace
Photography and design by Nancy Knowles, Emily Taub; All rights reserved.
Tweet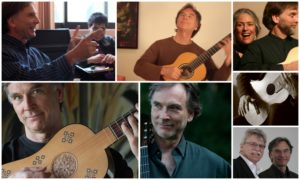 Hi-res photos are available at Flickr Frank Wallace performance photos and many more casual shots for the web are at Flickr Albums
---
"…a true master of his instrument…His dynamic range is impressive, and his gradations of tone, constantly singing line, and sensitive musicianship confirm his 'elegant virtuosity' (www.classicstoday.com)" – Robert Schulslaper, Fanfare
"Wallace plays his own works with inspiration, determination, and a wealth of creativity…he can match the musicality of any player out there…" — This is classical guitar
BIOGRAPHY Frank Wallace, composer, guitarist, baritone; b. November 22, 1952
Additional Biographies of varied lengths
On stage, Wallace is known for his "elegant virtuosity" (Classics Today) on the guitar, vihuela and lute and is a master of self-accompanied song. He tours internationally, performing music from the 16th – 21st century both as a soloist and with mezzo-soprano Nancy Knowles as Duo LiveOak. He has performed at the Taxco International Guitar Festival, Guitar Foundation of America, Festival Ramon Noble, New York Guitar Seminar at Mannes, the Holland Festival, Regensburg Festival, Música en Compostela, Boston Early Music Festival, Barcelona Festival, International Guitar Festival of Arequipa, the Festival of Spanish Song of Granada, and more.
Wallace is a graduate of the San Francisco Conservatory of Music in guitar performance and is self-taught as a composer. He moved to the East Coast immediately after graduation in 1974. Since 1986 he has received enormous inspiration from his family and their residence in a 1789 farmhouse in rural New Hampshire. American Record Guide calls Wallace's compositions "exciting, unpredictable, and fresh". Fanfare magazine has dubbed him a composer with "an authentic expressive voice" and a "high standard of musical interest" who performs with "flawless technical proficiency". Frank Oteri of NewMusicBox.org calls it "contemporary musical emancipation". Wallace's works showcase the classical guitar in solo and ensemble, as well as in chamber works with voice, flute, violin, viola, cello, oboe, bassoon, English horn, mandolin, and piano. His compositional style has many influences, from Medieval and Renaissance to blues, jazz, minimalism and modern atonalism. Great passion and a sense of humor infuse both his compositions and his performances.
Frank Wallace founded and directed for four years the Boston Classical Guitar Society's Festival 21, a celebration of all that is new in 21st century classical guitar. He also served a two-year term as artistic director of the Society. In New York City Wallace founded and co-directed the Second Sundays Classical Guitar Series in conjunction with the NYC Classical Guitar Society and Roger Smith Arts. He has taught at the New England Conservatory, Plymouth State College, Emmanuel College, Keene State College and Franklin Pierce College and has a B.M. from San Francisco Conservatory.
In 2014 Frank Wallace wrote a one hour chamber suite for the 50th anniversary of the Hartt School of Music's Guitar Department. He has also written for Juan Carlos Laguna, Pablo Garibay, Edel Muñoz, ChromaDuo, the Jugend Zupf Orchestra of Germany, Mare Duo, Marek Pasiezcny, Ciraldo Duo, Olson / De Cari Duo, the Providence Mandolin Orchestra and more. He has recorded for Gyre, Titanic, Centaur, and Musical Heritage Society, which re-released a number of LiveOak and Frank Wallace recordings in 2008. His compositions are published by Gyre Music and have been featured in Guitar Review, Soundboard, Fingerstyle Magazine, and The LSA Quarterly.
Wallace's complete recordings and compositions are available at www.gyremusic.com, a site rich with information and samples of sheet music and audio.
"…a composer with a distinct voice…" Soundboard