Clusters
AVAILABLE SUMMER 2016
by Frank A. Wallace
for guitar solo
Preview: a sample PDF of  Clusters
Duration: 8 minutes; 4 pages
Written: March, 2015 for Adam Levin
Difficulty level: advanced, stretches and high chords
Instrumentation: solo guitar
World premiere:
Recording:
All Gyre compositions are ASCAP
Copyright ©2015 Frank A. Wallace
Cover photography by Frank Wallace; design by Nancy Knowles
All rights reserved.

Adam Levin's playing is superb—no technical difficulties, lovely tone, wide range of dynamics and articulation. …I can't imagine them played with more conviction, expression, and sheer joy.
Kenneth Keaton
American Record Guide, September 2013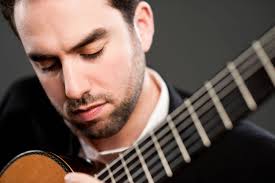 I met Adam in Boston through mutual friends and endeavors while I was the Director of the Boston Classical Guitar Society and Festival 21, an annual festival of new music. Unfortunately for me, Adam left on a Fulbright Scholarship to Madrid and we never had him on the festival. While there he commissioned 30 works for solo guitar from Spanish composers. He has since become a premiere advocate of new music for guitar with several CDs and many collaborations. I am humbled by his energy, focus, power and sumptuous guitar playing. It is with this in mind that I dedicate Clusters to Adam.
BIOGRAPHY [excerpt] Adam Levin has been praised by renowned American guitarist, Eliot Fisk, as a "virtuoso guitarist and a true 21st century renaissance man with the élan, intelligence, charm, tenacity and conviction to change the world." Levin has performed across the United States and Europe at renowned venues such as Chicago's Pick Staiger, James Lumber Performing Arts and Mayne Stage concert halls, Boston's Isabella Stewart Gardner Museum, Museum of Fine Arts, and Jordan Hall, the Palazzo Chigi Saracini in Italy, Berlin's Universität für Musik und darstellende Künst, Barcelona's Auditorio Axa, and in Madrid at the Fundación Juan March, Palacio de Godoy, BBVA Palacio del Marqués de Salamanca, and Sala Manuel de Falla. Levin has appeared on a variety of prestigious music series, including Madrid's Sociedad Española de Guitarra, Conciertos en Palacios and Festival Clásicos en Verano, Valencia's Amigos de la Guitarra, Boston GuitarFest, L'Accademia Musicale Chigiana in Siena, Italy, and Festival Pro Música e Cultura in St.Moritz, France.
From 2008-2011, Levin was honored as a Fulbright Scholar as well as grant awards from the Program for Cultural Cooperation Fellowship (promoting cultural understanding between Spain and the United States) and the Kate Neal Kinley Fellowship, to research contemporary Spanish guitar repertoire in Madrid, Spain. His three-year residency resulted in a major collaboration with 30 Spanish composers spanning four generations, who each wrote works commissioned by and dedicated to Levin. In 2012, production began on a four volume encyclopedic recording project with Naxos and companion publication Brotons y Mercadal Edicions Musicals, to document these pieces. The first recording in the series, 21st Century Spanish Guitar, Volume 1, was released by Naxos in 2013 to rave reviews, garnering accolades from Classical Guitar Magazine, Soundboard, American Record Guide, and both Recording of the Month and Recording of the Year awards from MusicWeb International, where critic Brian Reinhart wrote, "These composers could not have asked for a better, more thoughtful and dedicated guitarist to premiere their works… one of the most exciting guitar series of the century so far." For his promotion, interpretation and performance of Spanish music, he was nominated for the 2011 Trujamán Prize, in which only three guitarists worldwide are selected annually.
Tone clusters are a phenomenon apart from most solo guitar repertoire. The nature of the guitar is such that it is difficult to find true clusters that are possible to play on one instrument. The challenge crossed my mind and I set out to discover how to finger and musically coordinate multiple clusters, or stacks of notes only a half or whole step apart, often inverting to sevenths.
In this exploration I realized what I believe I already knew, close and intense dissonance does not have to seem ugly or be played that way. Even in romantic music, it is often the mildly dissonant chord that gives depth, the intensely dissonant that gives us goosebumps. In more dissonant music, the shimmer of overtones created and the natural undulation of these sounds is profoundly spiritual.
Play each piece separately or all together. Use as much variety of tone and dynamic that you can muster, the full spectrum of color of which the guitar is capable. The rhythms and arpeggio patterns from measure 1-9 in Cluster #1 can be improvised and include block chords or rasgueados.
As in all Gyre Editions, all accidentals apply only to the octave on which they appear. Harmonics are written at sounding pitch; string and fret are indicated when needed with portions of fret also shown in lower positions. Fifth harmonics may include the fingered, but not sounding, fret in ( ).
Frank Wallace
February 19, 2015
Antrim, NH
Copyright ©2015 Frank A. Wallace
Cover photography and design by Nancy Knowles
All rights reserved.