A World Not So Round
by Frank A. Wallace
for guitar quartet
; PARTS INCLUDED
Preview: a sample PDF of A World not so Round
Duration: 10 minutes; 28 pages
Difficulty level: Moderate technically
Instrumentation: guitar quartet
Written: January, 2014 for the New England Guitar Quartet
Commissioned by: the Hartt School of Music Guitar Department at the University of Hartford, CT with assistance from the Augustine Foundation
World premiere: April 12, 2014 at the Hartt School, Hartford, CT by the New England Guitar Quartet
Recording: coming on Gyre, fall 2014
All Gyre compositions are ASCAP
Copyright ©2014 Frank A. Wallace
Cover photography and design by Nancy Knowles
All rights reserved.
The New England Guitar Quartet at the debut of As It Could Be at the Hartt School on April 12, 2014.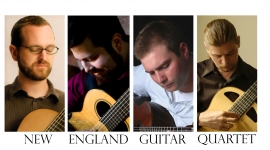 A World Not So Round
, guitar quartet written for New England Guitar Quartet: Nick Cutroneo; Jeremy Milligan; Daniel Hartington; Christopher Ladd
New England Guitar Quartet www.neguitarquartet.com/
The New England Guitar Quartet has been stunning audiences since their debut performance at The Hartford Women's Composers Festival in 2012 with their dynamic virtuosity, inventive programming and artistic interpretations.  The quartet delivers an eclectic mixture of fiery Latin American rhythms, exotic modalities and complex baroque counterpoint in their performances.  Their concert programs bring to life both historically significant repertoire as well as newly composed works for the guitar.
Jeremy Milligan received his Bachelors degree in Classical Guitar Performance from Keene State College in 2001, where he graduated with honors and was awarded the KSC 'Instrumentalist of the Year' award for 2001. Immediately following school he began work for Royal Caribbean Intl. as the guitarist for the 'Enchantment of the Seas Orchestra'.  Jeremy recently received his Masters Degree in Classical Performance from the prestigious Hartt School of Music in West Hartford, CT, where he studied with Richard Provost.
Not only a soloist, Nicholas Cutroneo is a highly sought after chamber musician. During his time at The Hartt School, Mr. Cutroneo was a member of the prestigious Performance 20/20 honors chamber music program. Devoted not only to standard repertoire, Mr. Cutroneo has premiered many new works for the classical guitar by Thomas Schuttenhelm, Frank Wallace, Sean Pallatroni and including a Guitar Concerto written and dedicated to him by Dan Lis.
Daniel Hartington serves as director of the Connecticut Guitar Society's Guitar Ensemble.  Under his direction, this group of amateur guitarists has performed on stage with William Kanengiser (2009) and the Mark and Beverly Davis guitar duo (2010) and presented a series of concerts throughout central Connecticut. As a teacher, Daniel maintains several studios, serving on the faculty of the Hartt Community Division at the Hartt School, Miss Porter's School, The Music Academy of the Connecticut Virtuosi Chamber Orchestra.
Award winning guitarist Christopher Ladd has been a prizewinner in numerous competitions including the Appalachian Guitar Festival Solo Competition, American String Teachers Association Competition and was twice a semi-finalist in the prestigious Guitar Foundation of America International Competition. He received the highly coveted Artist Diploma from The Hartt School where he studied with Richard Provost. Mr. Ladd currently serves on the faculty of The Hartt School in West Hartford, Connecticut, Central Connecticut State University and the New England Music Camp in Sidney, Maine.
A World Not So Round
NOTES
Eight works composed by Frank A. Wallace in winter 2014 comprise As It Could Be, a chamber suite commissioned by and dedicated to the Hartt School of Music Guitar Department and its founder/director Richard Provost on the occasion of their 50th anniversary. The project was conceived at dinner following a concert of the New England Guitar Quartet at the Hartt Festival in the summer of 2013. My interest in writing chamber music melded perfectly with Dick's desire to plan a celebration/concert for the Anniversary. Dick suggested using The Man with the Blue Guitar by Wallace Stevens (a resident of Hartford, CT) as a source of lyrics for a song to include. This incredible testimony to art and its role in changing society became inspiration for the music and titles. The possibilities for chamber music with guitar, guitar orchestra and ensembles are only beginning to be fully realized. Thank you Dick (and all your colleagues) who brought the guitar out of the dark ages and into a brilliant new community of creativity and progress through your courage, hard work and vision. Thanks to the Augustine Foundation for their support of this project. Let us imagine a future as it could be: "Things as they are / Are changed upon the blue guitar." [Stevens]