A Wisp in the Dark
by Frank A. Wallace
for solo guitar
Alternate version: included as third movement of Suite Hartt
Preview: a sample PDF of A Wisp in the DarkWritten: December, 2013
Instrumentation: solo guitar
Duration: 5 minutes; 2 pages
Difficulty level: Moderate technically, some stretches
Commissioned by: the Hartt School of Music Guitar Department at the University of Hartford, CT with assistance from the Augustine Foundation
Written for: Richard Provost
World premiere: April 12, 2014 at the Hartt School, Hartford, CT
All Gyre compositions are ASCAP
Copyright ©2014 Frank A. Wallace
Cover photography and design by Nancy Knowles
All rights reserved.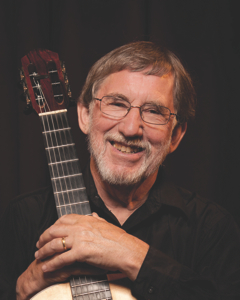 A Wisp in the Dark
, guitar solo written for
Richard Provost
Founder and former chair of the guitar department at the Hartt School of Music, University of Hartford Mr. Provost is regarded as one of the Country's leading guitar pedagogues. His students have won or been finalist in major guitar competitions including the GFA, MTNA, ASTA, and Alirio Diaz Competition.
His early studies were with Alexander Bellow of New York City and Oscar Ghiglia. In addition, he was selected to perform in the last of Andres Segovia's summer master classes in Santiago de Compostella, Spain, as well as master classes given by Julian Bream, Oscar Ghiglia, and Rey de la Torre.
Mr. Provost made is solo debut at London's Wigmore Hall in 1972. He has performed throughout the United States, Great Britain, and Germany. In addition, he has conducted numerous master classes and workshops as well as authoring three books on guitar technique (Professional Guitar Publications) along with The Art and Technique of Practice and The Art and Technique of Performance. (GSP Publications) In 1988 he became a member of the Goldspiel/Provost Duo, where he continued to perform and record with his partner, Alan Goldspiel until 2010. Mr. Provost records for GPD and Brioso Records. His fifth CD as a member of the Goldspiel/Provost Duo, Latin Magic, was released in late 2008.
As a soloist he has performed throughout the United States, British Isle, Germany and at numerous festivals and workshops most notably the GFA and National Guitar Workshop.

A Wisp in the Dark is the third of eight works composed by Frank A. Wallace in winter 2014 comprise As It Could Be, a chamber suite commissioned by and dedicated to the Hartt School of Music Guitar Department and its founder/director Richard Provost on the occasion of their 50th anniversary. The project was conceived at dinner following a concert of the New England Guitar Quartet at the Hartt Festival in the summer of 2013. My interest in writing chamber music melded perfectly with Dick's desire to plan a celebration/concert for the Anniversary. Dick suggested using The Man with the Blue Guitar by Wallace Stevens (a resident of Hartford, CT) as a source of lyrics for a song to include. This incredible testimony to art and its role in changing society became inspiration for the music and titles. The possibilities for chamber music with guitar, guitar orchestra and ensembles are only beginning to be fully realized. Thank you Dick (and all your colleagues) who brought the guitar out of the dark ages and into a brilliant new community of creativity and progress through your courage, hard work and vision. Thanks to the Augustine Foundation for their support of this project. Let us imagine a future as it could be: "Things as they are / Are changed upon the blue guitar." [Stevens]