25% OFF MANDOLIN SCORES
type MANDOLIN into PROMO CODE at checkout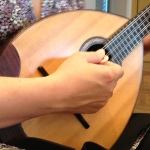 The 2015 CMSA Convention takes place this week in Austin TX. All mandolin music of Frank Wallace is available at 25% off for the week, PDF downloads or printed editions. Ensemble pieces are complete with parts and each page has extensive information and samples of the score, as well as audio or video when available. Click on title to view more information and purchase.
The Coming of Arthur  $19.95
2009 – mandolin and guitar; for Mare Duo
Nocturne  $15.95
2010 – mandolin orchestra; for Das JugendZupfOrchester des Landes NRW
New England Quintets or Quartets  $13.95
2011 – mandolin orchestra, arrangements of NE Sextets
On the Sol, in Mi  $6.95
2011 – 2 mandolins and guitar; for Mark and Beverly Davis
Night Owl  $7.95
2012 – mandolin solo; for Annika Hinsche
Blue Heron  $7.95
2012 – mandolin or violin; for Robert Margo
Gargoyles  $11.95
2012 – 2 mandolins and guitar; for Mare Duo
like black snow  $13.95
2012 – alto voice, clarinet or liuto cantabile, and guitar; poems by Nathan G. Wallace; for Asteria Ensemble
My Vital Breath  $19.95
2013 – mandolin orchestra; Prize-winner José Fernández Rojas 2013 International Composition Competition; for New American Mandolin Ensemble
Gargoyles CD features the mandolin and guitar music of Frank Wallace as played by Mare Duo and Friends.
"… range of moods and colors … is quite astonishing. …an exquisite canvas… palpable excitement…stylistic variety… consummate skill… virtuoso playing…" —  Fanfare Nov/Dec 2014
"Mare Duo has a great sense of sound, a perfect playing-together and an uncommon high-leveled musicality. Wallace as a composer fascinates me. His music is modern but characterized by beautiful harmonies, colors, and a lot of vivacity in pitches and rhythm." — Prof. Marga Wilden-Hüsgen
"Annika and Fabian Hinsche with their wonderfully united sound and their boundless energy combined with Frank Wallace's rich compositional style, which seems to float freely and unselfconsciously between contemporary and early music inspirations, will, without a doubt be a winning combination." — Mike Marshall