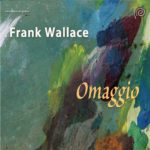 Omaggio
Frank Wallace
Gyre Music
Finding new colors in Segovia's repertoire
This "tribute to the legacy of Segovia" (i.e., pieces associated with him) is played on a 1931 Hauser and recorded in a church, so there is plenty of natural reverb on the recording.  Wallace begins with Villa-Lobos' first three Preludes, well-known to most, but what is unexpected is his presentation of some details in a slightly different way, which I found quite refreshing.  The Manuel de Falla Omaggio that comes next moves a little faster than a lot of interpretations and is full of power and drama. Turina's Garrotín and Soleares are wonderfully played.  It is such a shame that Turina's guitar oeuvre is so tiny, as these pieces are exciting and consistently entertaining.
Four pieces by Tárrega follow, all lovely miniatures, including Adelita and the famous Capricho Arabe, which receives a particularly lively and dynamic performance. The only slightly unconventional addition to the recital is a set of variations on El Noi de la Mare, so beloved in Llobet's magnificent version.  Here, Wallace treats this lullaby to a constantly surprising set of emotions, many of them definitely not very lullaby-like.  This is Wallace's own homage to both Llobet and Segovia.
The recital finishes with one of the finest pieces Segovia had written for him, Federico Mompou's Suite Compostelana. Wallace's interpretations are quite telling, as here, too, he manages to find fresh ways to play this suite.  This is altogether a wonderful album, beautifully played. – Chris Dumigan, Classical Guitar Summer 2017